(Dan Tri) – Along with providing air-conditioning solutions suitable for all projects, LG also offers a solution for remote central air-conditioning system management with preeminent features that can control anytime, anywhere by computer or phone.
TMS total management solution was developed by Korean electronics company to help project customers easily control and improve the performance of central air conditioning system. TMS total management solution uses Becon Cloud cloud system to connect and manage.
Meanwhile, the Becon Cloud application is built on a cloud computing IoT (IoT) platform that is capable of real-time monitoring, remote control, fault diagnosis, performance management and help save energy for LG air conditioning systems.
Benefits of remote management solution application
Works using central air conditioning often have a relatively complex structure, including many function rooms with specific characteristics and requirements. The same project, but the customer installs many different central air conditioning products. The problem that needs to be solved is easy, flexible and fast operation and control.
Stemming from the above practical needs, TMS was born and is considered the key to smooth operation of the central air conditioning system of the works.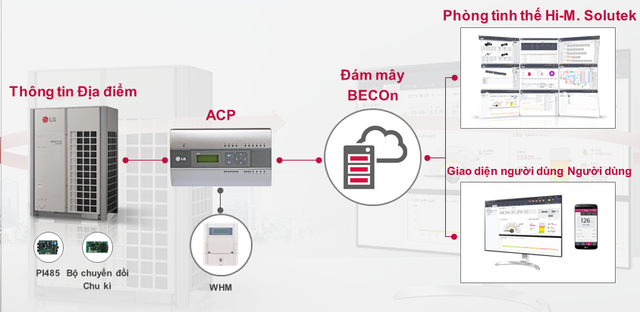 Cyclic converters on central air conditioning products combine with ACPs and move to the Becon cloud, making it easy to manage operations in different regions. All indoor units and equipment in multiple locations when connected to the TMS central controller will be easily controlled from this controller: from adjusting the device on and off, setting the room temperature , indoor fan speed and many other functions…
In simple cases such as the condition of not turning off the air conditioner in many offices, causing energy waste, are also quickly solved with the TMS remote control solution regardless of time and space.
In addition, the TMS interface is also extremely convenient, fully displaying the rooms according to the floor plan for the manager to easily monitor each area. In addition, the TMS overall management solution is also installed on computers, ipads, smartphones, users or authorized persons can operate flexibly.
Energy conservation pioneer
30% – 45% of the energy consumed by a building is usually used for air conditioning and up to 30% of the total energy consumption is wasted. Reducing the electricity consumption of a building is a problem posed for air conditioning supply units.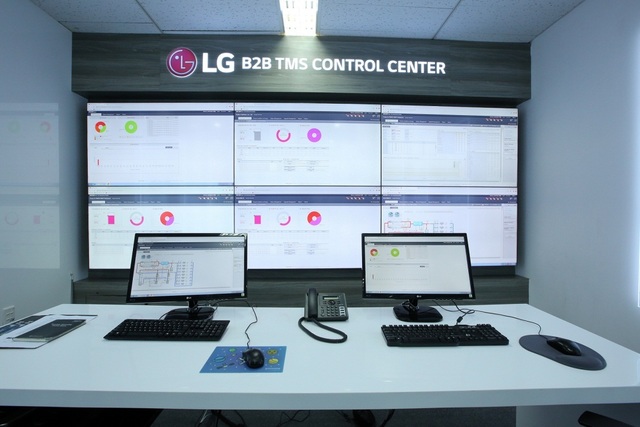 Therefore, LG provides comprehensive consulting services from Planning to Completion and Maintenance of air conditioning products, bringing high efficiency in reducing power consumption, improving performance. of all projects.
LG's central air conditioning system is built right in the process of completing the project. Therefore, the equipment and sensors installed with the air conditioner are the basis for providing data for B2B TMS later. TMS's data processing center is located at LG headquarters in Korea to exchange information with operation and monitoring departments in Vietnam for smooth management.
LG experts explained that when a cold shortage occurs in a building, the B2B TMS system can immediately recognize which areas are not cold enough, or which indoor unit's wind speed is weak. Technical staff can localize the causes to immediately bring repair supplies and tools to the place. With systems without TMS, repairmen have to go to the site to check to determine the cause and then come back again to repair, prolonging the process by many steps.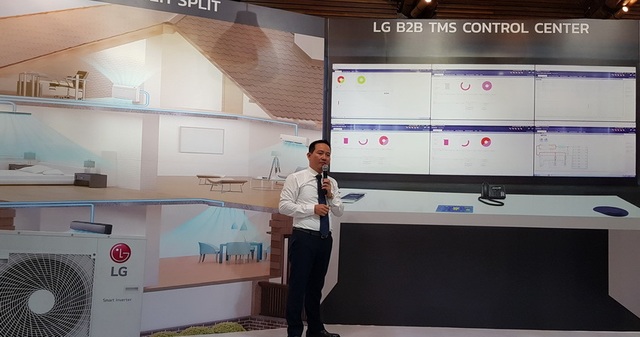 Even, AI artificial intelligence is also applied to B2B TMS to help the system identify possible failures early with parts and components of the refrigeration system that must operate with high intensity in the environment. harsh school. For example, the air filter of an air conditioner operating near a road must be replaced sooner than the outdoor unit located in a green building.
In addition, through Becon Cloud, the manager will update the monthly amount of power consumption, advise the appropriate energy level for the technician to make timely adjustments, and report the energy used to see. the energy efficiency of the building.
According to the number provided by LG, there are currently 98 locations operated by B2B TMS in Hanoi, Ho Chi Minh City, Hai Phong and Da Nang. The airline plans to expand this number to more than 200 locations this year, across the country.